Packaging


When people are moving house, or moving offices, they need a removal company that can provide them with all the necessary services so they don't have to go shopping around for several of them. As well as offering the usual removal services, France Removals offers a comprehensive, affordable packaging service that will make the process of relocation astoundingly easy. If you wish to obtain a free quote from us you can call us on 020 8746 9612 and let us know what it is you need and when you need it. We will endeavour to help as best we can, in order to make your removal experience as stress-free as possible.

Movers generally forget that packaging is a huge part of the removal process as it tends to determine how the rest of the move will pan out. If your packaging is disorganised and lazily done then you will find it extremely difficult to unpack at the other end. The trick is to organise your things according to what room you want them placing in when they arrive at your destination. That way both you, and we, can unload quickly and efficiently. The way to do this is fairly simple, and although it may take a while to do, it will save you time in the long run. Each box's contents should have the same destination and this should be written on the box itself, as well as what the contents are and whether it is fragile or not. As well as saving time this will probably save you money too, as no unnecessary breakages will occur.

All of our staff are extremely well experienced in the removals business and therefore know how to handle all of your belongs whether it is an antique rocking horse or an egg cup. From plasma televisions to China vases we aim to have everything arrive at your new location in exactly the same condition as when it left. We provide the necessary materials such as: boxes; bubble wrap; furniture covers; packing paper; paper; tape; and wardrobe boxes meaning that all of your possessions will be transported in a safe and secure manner.
Remember that all boxes should be secured with at least two layers of packing tape, so as to secure the bottom but you can, of course, leave that to us as we will ensure that all of your belongings are safe.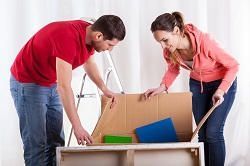 People moving house or office usually struggle with disassembling their furniture but this is something that you can hand over to us if you wish. We can do this quickly and efficiently as we know which items need to be taken apart and those that don't. We don't believe in dismantling things just for the sake of it.

So if you want a packaging service that will take al the heavy work out of your hands and let you enjoy a relatively smooth ride from one destination to another then you should call us on 020 8746 9612 to get a free quote. Our packaging service means that all of the previous anxieties you had about packing away your belongings can be assuaged. You no longer have to worry about whether you are going to damage anything because our workers are diligent and careful with everything that they handle. We value our customers' possessions and treat them as our own.